Junior civil engineering student, Robert Dinger, recently qualified him for the Division III national wrestling tournament. Dinger qualifed after he received third place in the regional wrestling competition that took place in Ithaca, NY. After losing a match in the semi-finals, he came back with two wins and placed third. The TCNJ wrestling team took first place at regionals.
The entire TCNJ wrestling team, including Dinger, will travel to Iowa soon to compete at nationals.
Congratulations to Robert Dinger and the rest of the wrestling team, and good luck at nationals!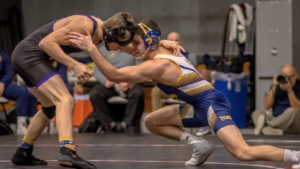 *Update: The 2020 NCAA Division III Wrestling Championships scheduled for March 13-14, 2020 in Cedar Rapids, Iowa were cancelled amid coronavirus concerns.