Congratulations to the teams behind IVenture and Kangaroo Care, who recently won first prize in their respective sections at the Northeast Bioengineering Conference (NEBEC), held at Drexel University. These teams were part of the five winners that were selected out of 70 entrants.
The NEBEC is a design competition for undergraduate students to showcase a prototype device they have designed and tested. Projects are evaluated based on their uniqueness and functional reliability.
The teams developed their projects as part of their year-long senior capstone class, taught by Dr. Christopher Wagner. The goal of this class, according to Dr. Wagner, is to "synthesize all of their fundamental engineering learning into creating something new for the world and doing it from scratch."
IVenture is a motorized IV pole that patients can control with a joystick, as opposed to holding the IV pole and pulling it alongside them. The device has been tested to move in sync with the speed a user may walk.
Kangaroo Care is a device that can be placed in incubators with prematurely-born babies to provide them with some of the experiences they miss by not physically being with their mother. The system is warmed and mimics a heartbeat, skin-to-skin contact, and breathing.
-Matthew Kaufman '25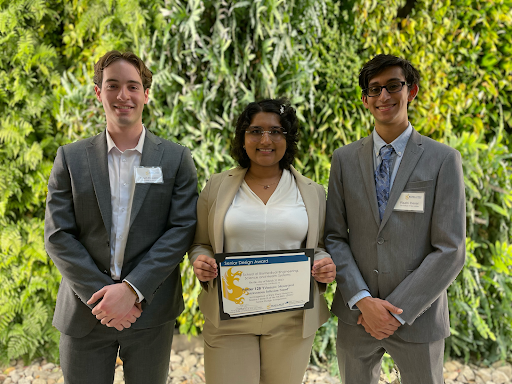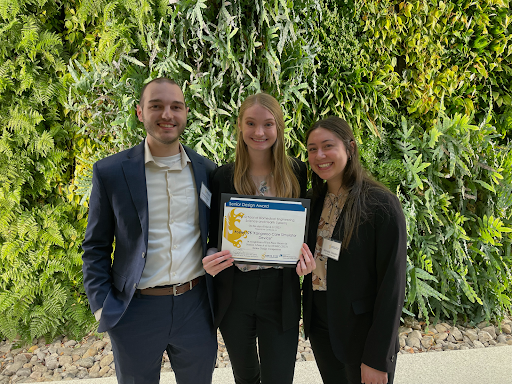 IVenture Team Members
Raahi Desai
Kevin Kowalski
Kwame Markin
Taniya Sood
Faculty advisor: Dr. Connie Hall
Kangaroo Care Team Members
Jack Felipe
Andrew Mayer
Michelle Web Meyers
Sabrina Vander Wiele
Faculty advisor: Dr. Brett BuSha