Congratulations to TCNJ Mechanical Engineering students Tyler Griffin, Frank Battaglia, Matt Martinez and Will Heidelberger on winning TerraCycle's 2023 Ernel Simpson Innovation Award! The students' winning design is an electric-assisted Human Powered Vehicle that produces zero emissions. The team will receive the $500 award.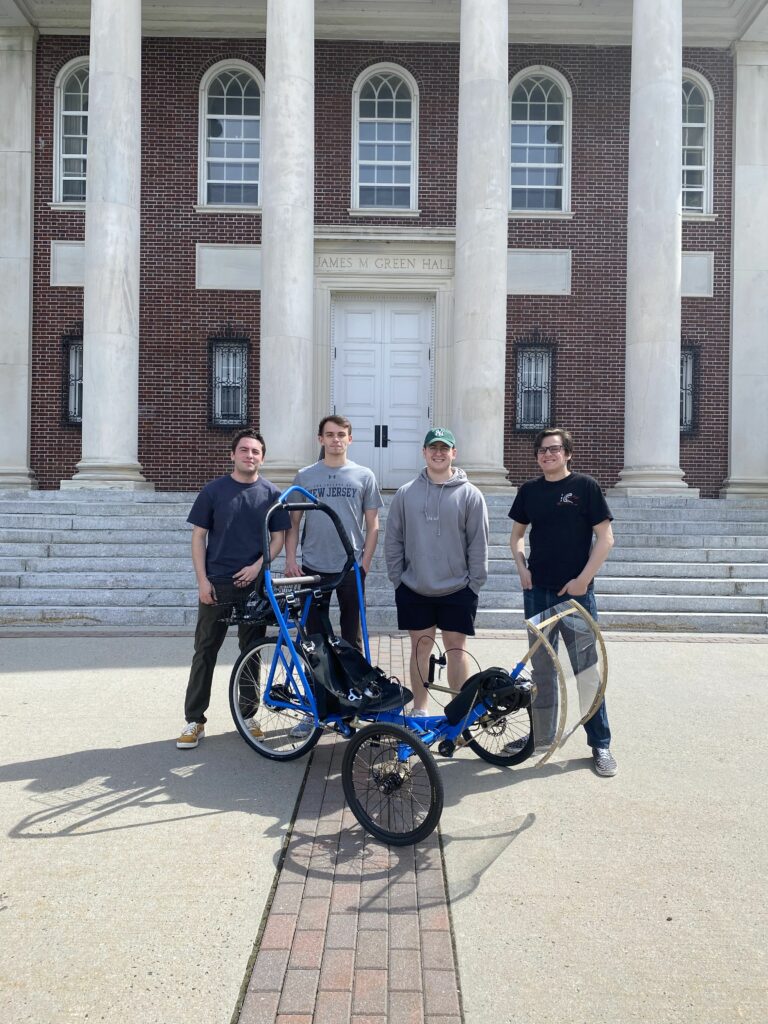 "Our electric-assisted human powered vehicle is a fantastic alternative to a car or motorcycle for transportation," the team wrote in their application for the prize. "It is comfortable to ride for extended periods of time, is safe to ride (rollover protection system), and most importantly does not run on fossil fuels."
"It also goes without saying that having a mode of transportation that is mainly human powered leads to a healthier and fitter population," the mechanical engineering students added.
TerraCycle, headquartered in Trenton, works to take recycling beyond paper and plastic by including commonly thrown away items such as food wrappers and cosmetics tubes. This is the fourth year the company has partnered with TCNJ Engineering to give out this award.
The team recently took their prototype to the American Society of Mechanical Engineer's Human Powered Vehicle Competition at Liberty University where the vehicle reached a maximum speed of 25 mph and successfully navigated an obstacle course.
"It was very rewarding to see our vehicle do well in the competition and experience the atmosphere of competing against other colleges and universities," said Heidelberger.
The team said they plan to display their vehicle in TCNJ's Engineering facilities so that future students can test it out as they prepare for next year's Human Powered Vehicle Competition.
-Matthew Kaufman '25