Zachary McCreery and Adam Vicente, senior mechanical engineering majors, went to the International Mechanical Engineering Congress and Exposition (IMECE) at the Calvin L. Rampton Salt Palace Convention Center in Salt Lake City, Utah. The purpose of the trip was to present the research they had previously done with Dr. Karen Yan about the formation and deposition of hydrogels using a 3D printer. They flew into Salt Lake City airport with Dr. Yan on a Sunday afternoon, and took time to explore the city and find some places to eat.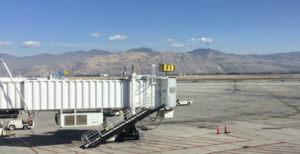 They explored the Salt Lake Temple Square that housed several impressive mormon temples.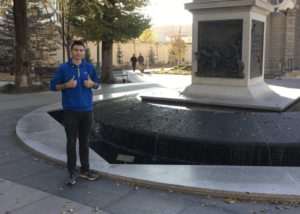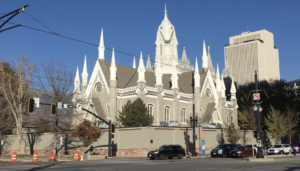 On the first day of the conference, the students attended several lectures concerned with topics such as advanced robotics, manufacturing, and thermodynamics.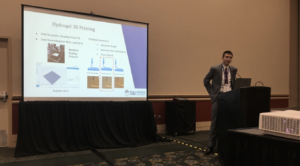 The second day of the conference was kicked off with the keynote speaker Dr Steven Chu, the former US Secretary of Energy. He gave an incredible lecture on climate change, some practical solutions to the main causes, as well as their economical consequences.
Later that day, Adam did a fantastic job presenting the research to several experts in the area of Microfluidics and Hydrogels.
The students spent the rest of the day exploring other lectures on topics such as micromanufacturing and robotics, and were then joined by Dr. Karen Yan and Dr. Manish Paliwal for a celebratory dinner.
The students said, "Overall it was a trip as equally fun as it was informative and inspiring. We were very fortunate to be given the opportunity to see so many devoted academic engineers present their innovative research."