Three members of the TCNJ chapter of the Society of Women Engineers (SWE) recently traveled to Anaheim, California for this year's national SWE conference. Stephanie Roser '20, Lauren DeSimone '21, Olivia Wilkens '20 have taken the time to share a wonderful reflection of their experience – from their outreach work with K-12 students to job offers received!
"We were extremely proud to represent TCNJ at the world's largest conference and career fair for women in engineering and technology. The theme for this year's conference, guiding the sessions and keynote experiences, was "We live, We learn, We lead." anchoring the female engineering experience in all aspects of our busy lives. Over 40,000 women attended this year's conference, representing all disciplines and fields within engineering.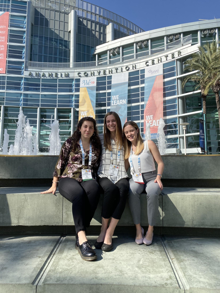 We heard from keynote speakers at the opening of each day, such as Carol Malnati, the Vice President of Cardiac Rhythm Heart Failure R&D at Medtronic, and Rachel Hutter, the Senior Vice President for International Facilities Operations Services and Worldwide Safety, Health and Engineering at Disney. Each woman spoke of her experiences leading to her current position, taking the time to give advice only years of experience and failures can breed. In addition to keynote speakers, countless sessions, both technical and otherwise, were offered throughout the conference. We each attended sessions ranging from technical advancements in our respective fields to general career development topics, as well as information and advice in working with and mentoring younger girls in the STEM field.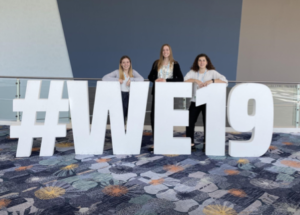 The conference also held a career fair with over 300 exhibitors and organizations from industry as well as almost 100 engineering graduate programs. In tandem with the career fair was a matching facility for each exhibitor to provide onsite interviews. Members of our SWE chapter were fortunate enough to be interviewed, producing both internship and job offers. Several companies also offered hospitality suites hosted by female employees, which provided a more informal setting to network with the company representatives as well as to learn about the culture and opportunities at each company.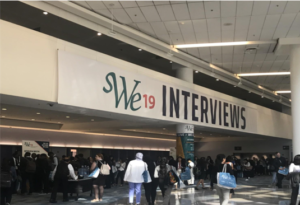 Each day there were luncheons or dinners sponsored by various companies for the leadership teams of collegiate sections, which allowed us to meet and learn from other collegiate SWE chapters. Many of the events and practices we have here at TCNJ SWE have been inspired or augmented by knowledge we've gained from these conferences. Hopefully we have had a similar effect spreading the TCNJ name and experience to others! Lastly, we were also fortunate enough to spread the TCNJ Engineering name to K-12 SWENext members who attended WE19's outreach expo, called "Invent it. Build it." At "Invent it. Build it." Almost 2,000 K-12 aged girls interested in the STEM world came to participate in STEM challenges, learn from volunteer role models, and visit the various expo booths displaying everything that engineering and computer science can be.
The conference did also allow for lots of fun and relaxation time! Throughout the conference there were social media lounges, photobooths, excursions, and, of course, food. There were many opportunities to meet someone new and make meaningful connections. We even got to visit Disneyland! Not only have our connections with other individuals and other schools multiplied, but we were also fortunate enough to improve our connections with each other within our own chapter. I've known both of these girls for years now, but each SWE conference experience still manages to bring me closer to them. I know this reflection turned into a lengthy list of the reasons we love and are grateful for each SWE conference we get to attend, but it truly is an incredible experience. SWE, as an organization, has an extremely impressive ability to spread into many aspects of its members lives. It incorporates personal growth, leadership and confidence, professional development and networking, and technical knowledge for continuing education, all while maintaining a focus on improving the environment and opportunities for the women coming after us. Not only does the conference and organization directly benefit us in all of those areas, but it reinvigorates our section's passion to be able to provide such an overwhelmingly beneficial space to our members and our school."