Junior mechanical engineering student and swimmer Griffin Morgan was recognized by the College Swimming and Diving Coaches Association of America for achieving a high-grade point average while also attaining an individual "B" time standard in the pool. The CSCAA names their Scholar All-America team as their highest honor, and Griffin was selected for an honorable mention for the 2018-2019 season.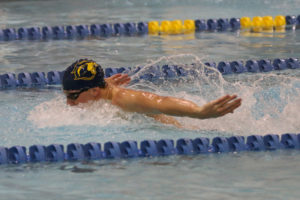 This comes as no surprise to Griffin's professors who know him to be a dedicated and hardworking student. Over the summer, Griffin worked with Dr. Karen Yan as a research assistant on a company-funded research project, "We worked primarily in the material science field, looking specifically at the strength of toothbrushes with varying parameters. Through the analysis of various materials an additive structure was designed to aid in the real-life impact testing of the toothbrushes".
Congratulations to Griffin for all his accomplishments in and out of the pool!