The School of Engineering has many hard-working, driven students.  The curricula for all the engineering majors can be tough, but many students are not only able to excel in their academics, but also be leaders in the School of Engineering, as well as outside of the school in other campus activities.  Junior biomedical engineering student, Em Triolo, is one of those students who keeps herself quite busy.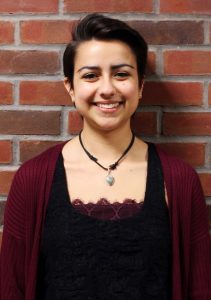 In terms of academics, Em is a part of the research track in biomedical engineering in Dr. Brett BuSha's lab.  She participated in MUSE 2017 as a part of the research track, helping to improve the orthotic exoskeleton hand that Dr. BuSha has been working on to augment grip strength of the user.  She says that her research is what she is most proud of having done at TCNJ, since she learned so much about hardware and software design, as well as how to present research as both a poster and a conference paper.  Em is also a part of TCNJ's Tau Beta Pi chapter, the engineering honor society, and recently began her term as the chapter's President.
Within the School of Engineering, Em works as an after-hours lab supervisor in Armstrong Hall and is also a part of Team Engineering, a group of engineering students who give tours of the school's engineering facilities to prospective students and who help run open houses.  She also works as a math, science, and engineering tutor at the on-campus tutoring center.
It doesn't stop there though.  Outside of engineering, Em takes part in many other campus organizations.  She is secretary for the Swing Dance club where they offer free swing lessons and social dancing for students, a member of All College Theatre (ACT), where she helps on the production staffs of several shows, and is involved in The Order of the Nose-Biting Teacups, the Harry Potter club on campus.  Her favorite activity is working on productions with ACT, as she gets to work closely with many other members, whom she is close friends with, to put on a show.  She also gets to express her creative side there when she takes on the role of a set designer.
With so many interests though, what was it that drew Em to engineering? She answers,
I was drawn to engineering in general because I have been building things since I was a kid and my favorite subjects in school have always been math and science. I was drawn to biomedical engineering specifically because all throughout high school I was drawn to biology, and eventually heard of the field through a TED talk by Hugh Herr about his bionic leg design.
At TCNJ in particular, she enjoys the small class sizes and her ability to make connections with her professors, as that was brought her the opportunities to do research and submit a paper for publication.  When she graduates, she intends to pursue a Ph.D. in biomedical engineering and enter a career in research.  Good luck to Em in all her endeavors!