Over winter break, Humanitarian Engineering brought 20 of its members to New Orleans to volunteer with the United Saints Recovery Project.  They worked hard to help build and repair homes in the area.  Some painted a house and replaced the siding to help a homeowner get insurance for the home.  Others did more heavy construction to help replace the sides of walls and did tile placement in another home.  The group also helped paint the hallway of a church in the area.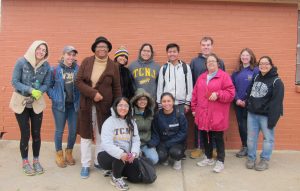 Humanitarian Engineering President, Amulya Veldanda, stated that "everyone really enjoyed the trip. We felt good helping out and it was really great to be able to talk directly to the homeowners. They all really valued our help. We could see the appreciation in their eyes. "
The organization focuses on fundraising in order to raise enough money to send members on these trips where they can offer help to a community.  The trip varies from year to year as the group searches for where there is a need.  In the past, the club has also helped build a water treatment system all the way in Thailand.  They fundraise through various sales for things such as apparel, Valentine's Day roses, and baked goods.  Next year the club is looking into a possible trip to Texas for a Hurricane Harvey relief project.
Both engineering and non-engineering students are welcome to join the organization if interested.  We are proud to have students dedicated to giving back to these communities!