Students in the school's iSTEM program put together an interactive event designed to highlight the program to high school students. According to student Samantha Moorzitz, the event was designed to  "promote TCNJ and the technology and engineering education department". In addition to promoting the school, the event offered an opportunity for  high school students to gain valuable insight from current students. Twelve schools attended the event, each bringing a group of interested students.  The event ran from 8:30 am to 1 pm., and was packed with speakers, technology demonstrations, and tours of the new STEM building.   The technology demonstrations included  the hydraulic robot arms that the program's ETE 371 class has been designing. According to Moorzitz, they "made these arms using Fusion 360, Image J, Illustrator, and Universal Laser".
Please click
here
to view the hydraulic robotic arms.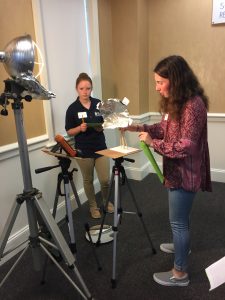 Moorzitz believes the event was a success for the department. She states "events, like this, that involve high school students, are very important as they broaden students mindsets- allowing them to explore creative intelligence.  It also allows them to begin thinking about TCNJ and Technology Education as a future career path". Moorzitz would like to thank everyone who participated in the event.