During the first year at TCNJ, all engineering students take ENG 142 – Fundamentals of Engineering Design.  Fundamentals of Engineering Design provides an introduction to the study of engineering design and the fundamental skill-sets used in the design process.  Topics, practiced through team-based projects and interactive activities, include team dynamics, effective oral and written communication, spatial visualization, and problem solving/engineering design process.
Freshman complete a Student Design Showcase Project as part of this course.  The Spring 2015 problem statement was "Design a product or device that will enable a person to perform a task with one hand that would normally require two hands."
The Rush Brush, by Paige Stroh, Raquel Mogavero, Nick Russo, Lexi Reynolds,  and Jin Roh, won the Grand Prize and Dean's Award in the competition, voted on by judges comprised of faculty and staff from the School.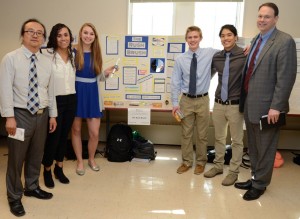 Additional awards included:
The Most Innovative Design Award:  Mono Game Control by Andre Le, Nikita Eisenhauer, Maria Castaneda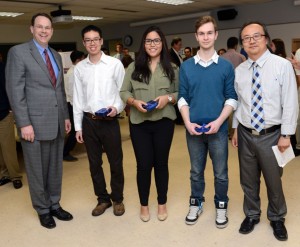 The Most Marketable Design Award:  E-Z Wallet by Kyle Lee, Pete Scalgione, Kat Wan, Luis Calderon
The Best Craftsmanship Design Award:  Easy Open by Patricia Cardoso, Joshua Acker, CJ D'Achille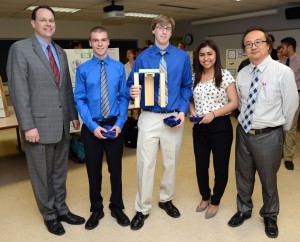 To see all of the projects, including the runner-up lists per category, click here.