Phil Baldoni and Yilin Yang presented their research in the 30th International CATA, Computers and Their Applications, Conference on March 9 to 11 at the Waikiki Beach Marriott Resort and Spa in Honolulu, Hawaii.
Baldoni, a junior computer engineering major, researched a more efficient means of evaluating fuzzy Petri nets under the supervision of Dr. Seung-yun Kim, assistant professor of Electrical and Computer Engineering. The two algorithms he proposed will be used in Baldoni's future research, where he will apply these evaluation methods to developing a self-driving vehicle.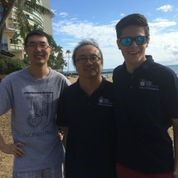 Dr. Kim also mentored Yang, a sophomore computer engineering major, who presented his research for him and his collaborator Sarah Dresher, a junior engineering management major with a specialization in electrical engineering, who did not attend the conference. Their research consisted of using fuzzy and time Petri nets to simulate the actions of a firefighting robot, according to Dresher. When they were not presenting, Yang and Baldoni were networking or watching other presentations with various topics, such as robotics, data mining and biomedical engineering. This conference provided a unique experience for them, according to Yang.
"There (were a lot) of opportunities to see the latest happenings in all sorts of computer-related fields," said Yang. "(Presenting research is) a very nice experience to have under your belt."