Each spring, the Engineering Alumni Mentoring and Networking Program sponsors a panel discussion in the Mildred & Ernest E. Mayo Concert Hall followed by a networking reception in the lobby. All engineering undergraduates and alumni, not just those participating in the program, are encouraged to attend this event.
We were thrilled to celebrate the 10th annual celebration of this event this academic year. The topic of the panel discussion was:
"Building Your Reputation in the Workplace"
Featuring Alumni Panelists: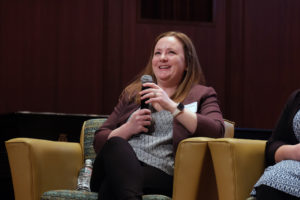 Emily Bauer '07, PSEG Nuclear
Emily Bauer is an Emergency Preparedness Program Specialist at PSEG Nuclear. In this role, she supports emergency planning for the Salem and Hope Creek Generating Stations and maintains the effectiveness of the PSEG Nuclear Emergency Plan. In her 12-year career at PSEG, she has held positions in system engineering at Hope Creek Generating Station, and in the licensing (regulatory) department. Emily is active in Employee Business Resource Groups (EBRGs) at PSEG. She serves as the Professional Development Coordinator for the PSEG Nuclear Women in Nuclear (WIN) organization. WIN focuses on outreach, networking, and professional development opportunities for its members. She is also a founding member of the newly formed PSEG Women's Enterprise EBRG. Emily holds a bachelor's degree in engineering science (engineering management specialization, mechanical preference) from The College of New Jersey and an MBA from Rowan University. She lives in South Jersey with her husband and two children.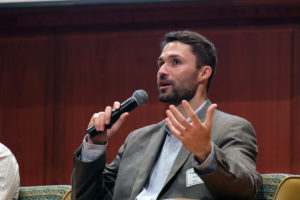 Timothy Olsen '12, RoosterBio
Dr. Timothy Olsen has over 8 years of experience in the regenerative medicine field with 15 publications. He earned a Bachelor's in Biomedical Engineering from The College of New Jersey (2012), a Master's degree in Bioengineering from Clemson University (2014), and a Ph.D. in Bioengineering from Clemson University (2015). After his graduate studies at Clemson, Dr. Olsen directed laboratory operations at Allevi and was a Bioink Engineer at the 3D bioprinting company. Currently, Dr. Olsen is the Northeast USA and Europe Account Manager at RoosterBio Inc, a regenerative medicine company focused on fueling the rapid commercialization of scalable human mesenchymal stem cell (hMSC) and exosome manufacturing technologies towards regenerative cures. Prior to his commercial position, Dr. Olsen was Senior Scientist on the Process and Product Development Team at RoosterBio, working on hMSC isolation, culture process optimization, media formulation development, 3D microcarrier-based bioreactor process development, and scaling up hMSC and hMSC-derived exosome manufacturing towards clinically and commercially relevant-lot sizes.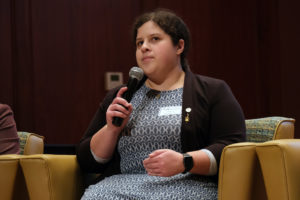 Lauren Santullo '17, Walter P Moore
Lauren Santullo graduated from The College of New Jersey (TCNJ) in 2017. While at TCNJ, she participated in the Mentored Undergraduate Summer Experience (MUSE) with Dr. Bechtel. She also served as the President of TCNJ's American Society of Civil Engineers chapter and recording secretary of the Tau Beta Pi NJ Zeta chapter. After graduation, she completed a master's degree focused on structural engineering at the University of Illinois at Urbana Champaign. She has been working at Walter P Moore in their New York City office for slightly over a year on the structural design of two airport rental car facilities. She is involved with the Council of Tall Buildings and Urban Habitats and the Structural Engineers Association in New York, and serves as a trustee for the Chi Epsilon Chapter at TCNJ.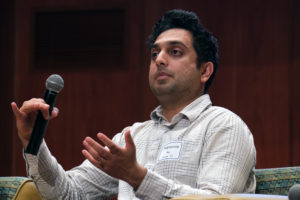 Raj Vansia '12, Universal Health Services
Raj Vansia earned his biomedical engineering degree at TCNJ in 2012 as well as a Master's in Computer Science from Georgia Tech in 2019. He is currently an assistant manager at Universal Health Services. His team is responsible for integrating biomedical devices with our Electronic Medical Record system in our 26 acute care hospitals. He works at the intersection between computer science, bioinformatics, and biomedical engineering.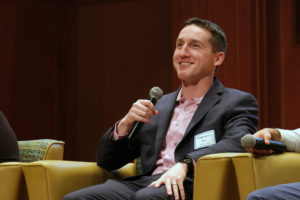 Brian Wahl '08, NAVAIR
Brian Wahl serves as a Program Manager at NAVAIR's Naval Air Warfare Center Aircraft Division in Lakehurst, NJ. He has 12 years of experience designing, manufacturing, fielding, and sustaining advanced systems and technologies that support military aircraft around the world. Brian has been an active participant in the TCNJ School of Engineering Alumni Mentoring Program since its inception in 2010. Brian holds a Bachelor of Science in Mechanical Engineering from TCNJ (2008), and a Master of Engineering in Systems Engineering from Stevens Institute of Technology (2011).
Many thanks to our panelists, as well as all alumni, faculty and undergraduates, for joining us for this evening!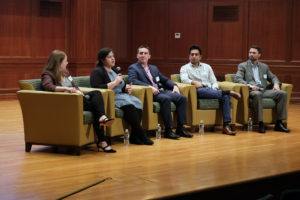 If you have any questions about this event or would like to participate in the future, please email 
engineering@tcnj.edu
.