Electrical Engineering student Nick Alvear '23  recently published a paper with faculty member Dr. Mahrukh Khan of the Department of Electrical and Computer Engineering. Their paper titled Design of a Novel Extremely Wideband Cavity-backed Antenna for sub-6 GHz 5G Communication was selected to be a part of the 1st International Conference On Microwave, Antennas & Circuits (ICMAC). The conference was held at the National University of Sciences & Technology in Islamabad, Pakistan and was Pakistan's first international conference on the topic. Get to know Nick and read more about his research with Dr. Khan below.
– Anisa Lateef '22
Nick Alvear '23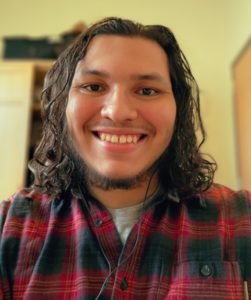 Hometown: South Plainfield, NJ
Major: Electrical Engineering
Hobbies: watching anime & playing Dungeons and Dragons
@ TCNJ: Vice President of Residence Hall Association (RHA) since Summer 2021: My duties include parliamentary proceedings at meetings, team bonding among other things. As an organization, we focus on improving the quality of residential life  at TCNJ. We host a weekly open forum where residents can voice their concerns about their residence hall. 
President of TCNJ Manhunt since Summer 2021: My duties include organizing the EBoard, hosting our weekly game, and planning our week-long games. Every week our organization gathers and plays manhunt (tag in the dark) around campus, weather permitting. 
How did you and Dr. Khan connect to begin working together?
Dr. Khan and I started working together in the summer of 2021 after my sophomore year. That was Dr. Khan's first year teaching here at TCNJ and she was looking for an assistant for the summer. I applied for the position because her research looked interesting after receiving her open email to all ECE students.
What kind of stuff are you working on in the lab? 
We were working on increasing the bandwidth of a patch antenna design for 5G. 
What is the significance of the research you are doing? 
By increasing the bandwidth of the antenna more information can be sent. This means better quality streaming, calls, etc. This could be incredibly important as we continue to move into a more digital age as a result of the after effects of COVID-19.
What made you want to pursue this type of research?
I think it is fascinating how two different completely unconnected systems can still communicate if they have an antenna. Antennas have helped us make amazing things like GPS and the internet. This fascination helped lead me to the research I conducted with Dr. Khan and hope to study further.
Any advice for future students working in a lab?
If you are interested in doing research with a professor, then talk to them. Most professors will love the initiative and be more willing to get to know you. Before committing to working as a lab assistant, be sure you have the time because it can very quickly become a big commitment. 
What's a fun fact that you've learned while pursuing your research?
The word 'antenna' is from Guglielmo Marconi's test with wireless equipment in 1895. For the test, He used wire tied to a wooden tent pole.  A tent pole is called 'l'antenna centrale ' in Italian so his antenna was simply called 'l'antenna'.
If you are an engineering student and did something awesome you want us to know about, email us at: soengweb@tcnj.edu.