TCNJ's National Society Of Black Engineering (NSBE) was named one of the winners of the American Society for Engineering Education's (ASEE) 90-Day Equity Challenge for Engineering Student Organizations. Student leaders were challenged to identify barriers that prevent inclusive engagement for students in their local chapter. They worked to design diversity and equity incentives plans that will last beyond the 90 days of the challenge at their institution.  NSBE president and senior mechanical engineering student Drayen Glover traveled to Minneapolis, Minnesota for the 2022 ASEE Conference to accept the award and $1,000 honorarium on behalf of TCNJ NSBE. Click here to watch Drayen's interview at the conference along with two other students representing the other winners.
"It was such a great experience to attend the ASEE conference in Minneapolis on behalf of TCNJ's NSBE. Our chapter focused on recruitment and retention for the 90-Day Equity Challenge.  We were able to use the engineering design process to increase our membership rate and we now have a full Executive Board for the 2022-2023 school year!  This experience highlighted multiple solutions for equity issues amongst student organizations."
Earlier in the year, members of TCNJ's NSBE chapter also traveled to Anaheim, California to attend the 48th Annual NSBE Convention. During the five day conference, students were able to network with employers, recruiters and other engineers. They were also introduced to new resources to help them throughout their engineering careers. Sponsors of the event included Amazon, Deloitte, Google, SONY and Toyota to name a few. Drayen reminisces about her experience:
"I am very grateful to have had the opportunity to attend The National Society of Black Engineers National Convention in Anaheim, California. During this conference I was consistently networking with people. I had about 6 interviews during the conference, and since then I've accepted a position with Avery Dennison in Ohio this summer. From this experience I would always advise people to be confident, and always highlight the things they are good at and passionate about! Thank you to the School of Engineering for help making this possible!"
– Anisa Lateef '22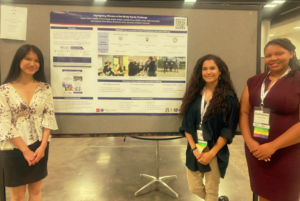 Drayen (far right) in Minneapolis with fellow 90-Day Equity Challenge award winners.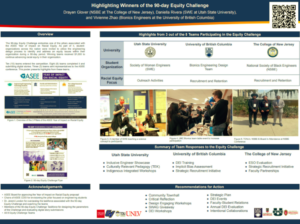 90-Day Equity Challenge 2022 poster featuring Drayen and two other winners.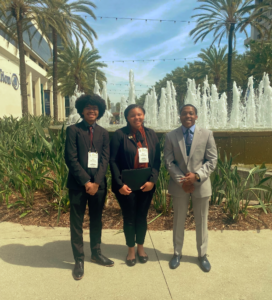 (Left to right) TCNJ's Angel Solano, Drayen Glover and Jermar Best in sunny California for the NSBE Convention.
Inside the NSBE National Convention.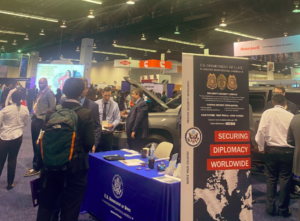 Visiting employer booths, like the US Department of State. 
If you are an engineering student and did something awesome you want us to know about, email us at: soengweb@tcnj.edu.