Congratulations to the School of Engineering's Joe Zanetti for winning a 2022 TCNJ Staff Of The Year Award in the Nominated by Students division. Joe, a Professional Services Specialist overseeing the School of Engineering's Manufacturing Lab, accepted the honor at this year's Staff Recognition Awards.  During the ceremony, Chair of the Staff Development Committee, Christopher Larthy commented on the large number of students that took the time to submit their choice for the winners.
Senior Mechanical Engineering student Hannah Corbisiero delivered a speech honoring Joe and his achievements. She began working with Joe her sophomore year in the Manufacturing Processes Lab. In her senior year, she interacted with Joe almost daily while working on her senior project. Below is Hannah's speech from the ceremony:
"It's truly an honor to be a part of this award ceremony today because Joe Zanetti has wholeheartedly made such an impact on my TCNJ experience the last four years. He has not only been a mentor in the sense that he has taught me countless technical skills that I never would have gained otherwise, but also a mentor in the sense that he has always been a shoulder to lean on and a person to look to for advice. The genuine nature of Mr. Zanetti is contagious and has made the workshop my favorite place to be on campus. It's such a comfortable learning environment with Mr. Zanetti because you can ask any and all questions without judgment and receive such a thorough explanation in return. As soon as he explains how to do anything, big or small, you're right there doing the hands-on work yourself. Working in the shop alongside Joe Zanetti has given me such a sense of confidence as I enter my professional career and I am so thankful for that. I believe Mr. Zanetti's hard work and dedication often goes very unnoticed so I am pleased that today, we get to recognize his love for his job and his students that he exemplifies day in and day out. Joe, I'm so very honored to be part of this for you. Don't take this award lightly because you truly deserve it and earned it."
– Anisa Lateef '22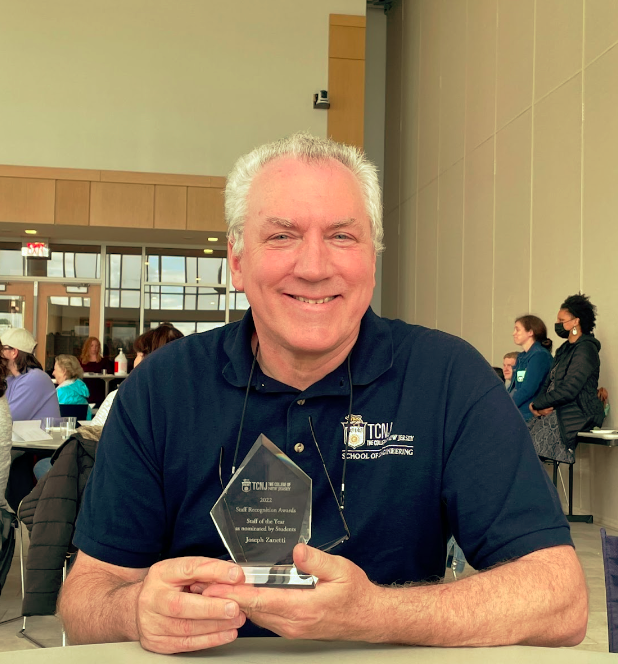 Joe Zanetti with his 2022 TCNJ Staff Of The Year Award.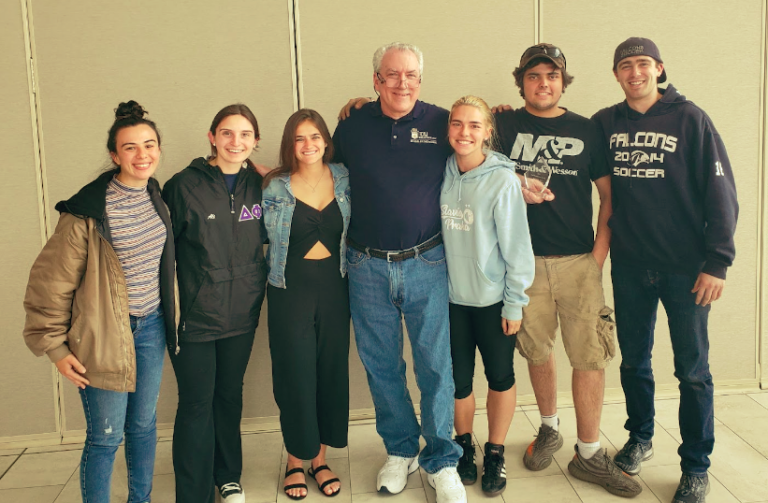 Joe celebrating with his students and Hannah (third from the left).
If you are an engineering student and did something awesome you want us to know about, email us at: soengweb@tcnj.edu.