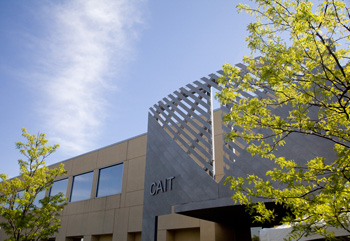 The School of Engineering is proud to announce its academic partnership with the Center for Advanced Infrastructure and Transportation (CAIT) at Rutgers University.  CAIT was named one of five USDOT-designated National University Transportation Centers (UTC) in 2013. The purpose of CAIT is
Infrastructure is all around us, interwoven with our daily lives in ways we take for granted. From tap water, to your daily commute, to moving millions of tons of products coast to coast—everything relies on infrastructure.

CAIT is addressing every aspect of today's—and tomorrow's—most pressing infrastructure issues: condition assessment, life cycle and durability, asset management, safety, mobility, and environmental and economic sustainability of our roads, bridges, ports, and more.
Dr. Thomas Brennan with the Department of Civil Engineering has established the School of Engineering's partnership with CAIT. Through its partnership with CAIT, the School of Engineering plans to further its research, course content, and student involvement in the development and analysis of new transportation and infrastructure technologies. More information on CAIT can be found here, http://cait.rutgers.edu/