Biomedical Engineering students James Ferrie '12, and Pamela Hitscherich '13, collaborated this summer with Associate Professor Dr. Karen Chang Yan and Assistant Professor Dr. Christopher Anderson to test James' hybrid tissue scaffold fabrication system also known as an electro spinning system. They were part of TCNJ's MUSE research program, and were one of over eighty projects accomplished this summer.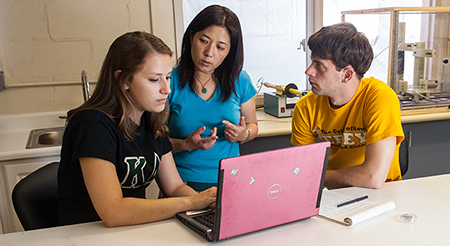 Electro spinning creates and aligns fibers on the micro and nano scale. With the proper equipment, complex matrices can be created that have a variety of uses. The field of tissue engineering seeks to use these matrices to repair or replace damaged tissue in the body.  This fabrication system was designed and built by James as his senior project and the students' main goal was to test the process parameters of the system, which were tested using a Scanning Electron Microscope. This work will allow future tissue engineers to tailor the fiber diameter and porosity of the tissue scaffolding for specific applications.
The students were thankful for the guidance and dedication of Dr. Yan and Dr. Anderson. Pamela would like to add that she had a great time making many new friends and learning much from her fellow researchers about engineering and graduate school. Information about applying to the MUSE program and a list of other MUSE projects can be found: here and http://fscollab.pages.tcnj.edu/.